You can buy at our auctions in a number of different ways.
Room Bidding
Come to the saleroom and register for a bidding number. You will be asked to provide your name, address and email, and possibly ID. You should use your bidding card to show the auctioneer you would like to bid.
Watch & Bid Live Online
Here on burstowandhewett.co.uk we stream the auction LIVE. This enables you to listen in to the auctioneer, and bid real-time as if you were in the room.
(1) Create an account by clicking 'Register' in the top right corner of this webpage.
(2) Register for the auction date you would like to bid on via the 'Auction Calendar' webpage or catalogue.
(3) On the Auction Day, sign in and click 'Watch Live'. You will be able to see and hear the auction LIVE, and a button will appear for you to 'BID'. The button will turn GREEN when you are in the lead.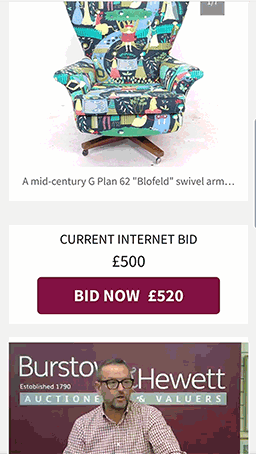 Absentee / AutoBid
If the auction falls at a difficult time for you, we can bid on your behalf. You need to decide the maximum amount you are prepared to go to. We try to buy the lot for you as cheaply as we can, up to your maximum bid.
You can leave an Autobid via our website. Ensure you are logged in to your account, go the the lot page you would like to bid on and type in your maximum amount into the box on the right hand side. Click 'Place Autobid'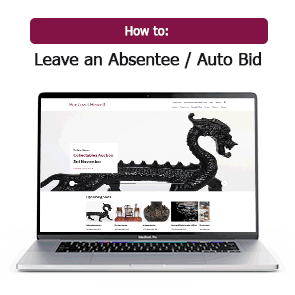 Telephone Bid
If you would like to bid on a lot, can't attend the sale and would prefer not to bid online, we can phone you during the auction so that you may bid in real time. This service may be booked on the lot listing page, or by contacting us. Telephone bids are only offered on lots estimated over £100 and telephone bidding is entirely at your own risk. Telephone bids must be booked at least 1 day prior to the sale, and we do not accept any liability for missed calls.
Third-Party Services
We also stream our auctions live via the-saleroom.com and easyliveauction. Which ever platform you decide to use will require pre-sale registration, and remember there are additional charges for their online bidding services.
A few things to remember:
Check the auction terms and conditions before you bid
Find out about shipping before you bid.
Join the bidding early, don't leave it to the last second or you may lose the lot.
If you pause your bidding the auctioneer will take it as a 'no'
No goods are sold as-new, there are no guarantees, all lots are sold 'as seen'.
Distance selling regulations do not apply at auction rooms
If you are a first-time buyer and you cannot attend to pay, you must pay by bank transfer for your first transaction. 
Bidding online: check your broadband for speed and continuity.
Bidding online: if you hold your mouse over the 'bid' button, the auctioneer can see that you are interested in bidding.
Items must be paid for promptly. If you do not have the funds in place for payment then do not bid.
Fees Calculator
We have a very useful fees calculator here on our website that breaks down the commission & VAT incurred on any hammer price. Please click here to try it out!
After the Auction
If you are successful in bidding you will receive an invoice the same day including a secure payment link and bank transfer details. We ask that you settle the invoice immediately at the end of an auction, payment must be made within 7 days. All hammer results are posted on our website too.
For postage & packaging options please click here to read more.