An Edwardian colour-change Sri Lankan sapphire and diamond 'Witch's Heart' brooch caught the eye of gem-enthusiasts when it came up for auction at Burstow and Hewett's Fine Jewellery auction on the 27th October 2023. Ultimately selling for £4,960 when the hammer came down. Here we take a closer look at this fascinating Jewellery piece.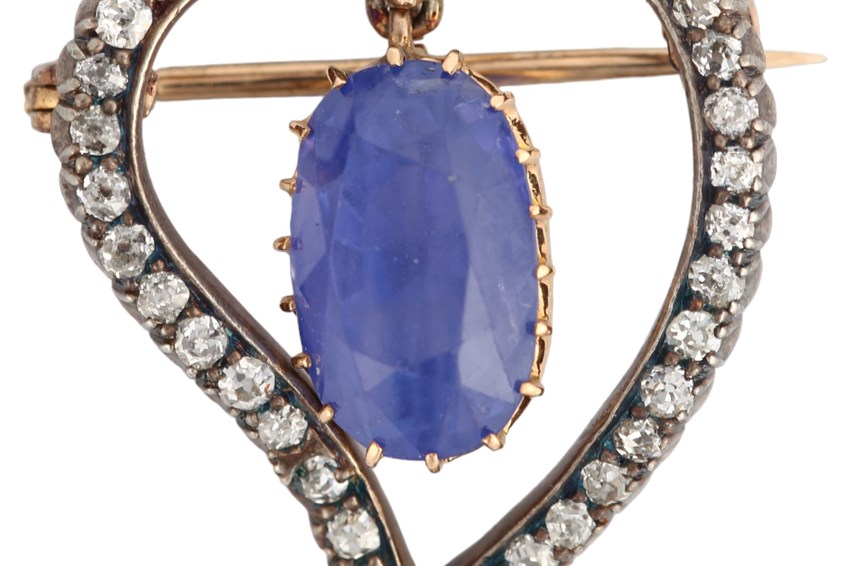 The Edwardian era, which spanned from 1901 to 1910, was characterized by an appreciation for elegance and refinement. This period marked a transition from the ornate Victorian style to the more delicate and graceful designs of the Belle Époque. This 'Witch's Heart' brooch is a perfect representation of the Edwardian aesthetic, with its intricate details.
The 'Witch's Heart' brooch gets its name from its distinctive shape, which resembles a stylized heart with a subtle twist at the top. The  symbol has been associated with protection and love throughout history.
However, what makes this brooch exceptional is its centrepiece - a stunning Sri Lankan sapphire. These sapphires, known for their incredible colour-changing properties, are found in the gem-rich island of Sri Lanka. They shift from a mesmerizing blue under natural daylight to a delicate violet or purplish hue under incandescent lighting, creating an ever-changing display. Colour-change sapphires have always held a unique fascination for gem enthusiasts and collectors. Their chameleon-like ability to adapt to different environments makes them an intriguing and versatile choice for jewellery.
Take a look at some of the other successes of the auction below including a late Victorian 18ct gold Colombian emerald and diamond twin heart ring that sold for £3,200