The George medal is awarded to civilians in recognition of acts of great bravery.
Around 2100 have been awarded since its inception in 1940, but only 27 have been awarded twice, which is signified with a bar on the original medal.
George Henderson was born in 1921, and worked in the RAF and the Colonial Service, primarily in the Middle East.
In February 1956, he was returning to his headquarters in Nisab (now Yemen), accompanied by a tribal guard and driver, when the car was ambushed by a group of tribesmen. The three men ran to a ditch and returned fire. With a wounded foot and little ammunition, he charged alone up the hillside at a group of 10 Aden tribesmen and dispersed them, saving his companions' lives as well as his own. For this feat he was awarded his first George Medal in May 1956.

On 10 December 1963, Henderson was with the British High Commissioner of Aden (Sir Kennedy Trevaskis), officials, Arab rulers and politicians at RAF Khormaksar in Aden, waiting to fly to London for talks on a future independent federation. As passengers were boarding the aircraft, a grenade was thrown from a balcony by a veiled member of the Egyptian-supported National Liberation Front (NLF). Henderson pushed
Trevaskis out of the way and threw himself in front of the grenade. One woman was killed and 41 others were injured. Henderson died of his wounds several days later, and was posthumously awarded his second George Medal, although he knew of the award before his death.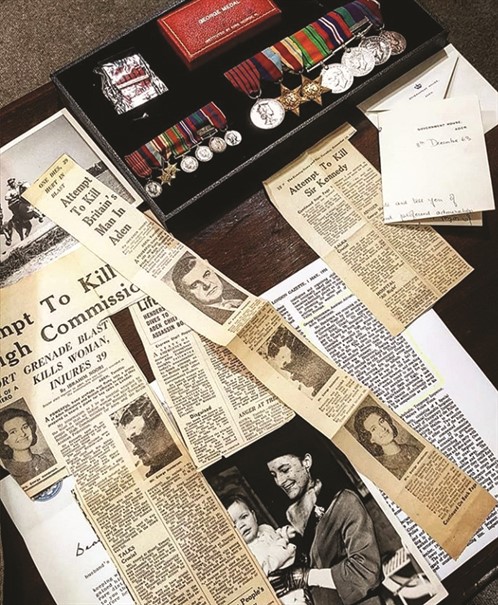 This rare group of medals are to be sold on behalf of Henderson's family, by auction at Burstow and Hewett auctioneers in Battle, East Sussex on Wednesday 19 June, they will appear as lot 100 in the sale and the pre-sale estimate is £10,000 to 15,000.
 Here is a short video preview of the sale: